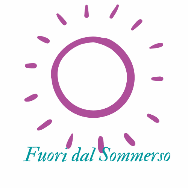 FUORI DAL SOMMERSO: Cooperativa fuori dal Sommerso is a not for profit organisation founded in Mesagne (in Puglia, South of Italy) in 2001; it has a staff of 21 professionals and is active in the field of adults, active aging, social and job integration of vulnerable target groups (in particular person with disability).
Our mission is to enhance the quality of life of seniors by maintaining their independence and dignity.
Our supportive services help seniors meet their daily living needs at home, which greatly impacts their health and ability to remain living independently. With community-based assistance, seniors can thrive at home where they are happiest. We are the safety net.
SOMMERSO offers a vital support system for vulnerable elderly with limited options who would otherwise not have access to or be able to afford services. 
In particular our main services are: home help, meal distribution, adults workshop.  We may be able to refer disabled persons to wheelchair accessible housing or transportation or other services in our city. In addition, periodically we organize recreational events in order to provide the opportunity for further interaction and socialization among our target group. 
Finally we adhere to the European network Euro-net, working on the development of training, mobility and European co-operation for the Puglia region. 
Sommerso provide 2 kind of Home care Services for Seniors:
rehabilitation, supportive, health-promoting or disease-preventive and technical nursing care, both for chronic and acute conditions (the latter are better known as hospital-at-home schemes), occupational therapy and physiotherapy;
home health care recipients would be mostly older people, people with complex illnesses and people with terminal illness. (art 88 Puglia Region)
Home help services, traditionally provided by the social service sector, instead, comprise:
household duties, such as shopping, cooking, cleaning and administrative paperwork (such as filling in forms and paying bills), activities such as socializing or going for walks and delivering personal care (help with bathing and dressing, etc.);
these services commonly substitute for informal care; nevertheless, they could also stimulate it (help for family members, neighbours or friends) and provide moral and psychological support (counselling and advice);
once again, most people receiving home help services are older people, many of them living alone. (art 87 Puglia Region)
Home care assistants, or aides, are the foundation of the home care workforce because of the wide variety of services they provide. These services can range from assisting with therapy and the activities of daily living to preparing food. Home care assistants typically visit most frequently and spend the most time with the person receiving care