Download content: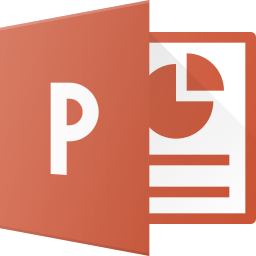 Content
Description
Data
References
Game
Content
Training content development​
Visual attention
Our brain constantly receives a huge amount of information through our sensory organs: eyes, ears, nose, mouth, skin. As the quantity of information arriving is too huge to be treated in its entirety, attention works as a kind of filter to select what seems important to us to be processed with priority. Thanks to attention we can listen to a conversation in a noisy room, spot an object in a pile of clutter or detect an animal crossing the street while we are driving a car. Despite the massive flood of information inundating our senses, attention enables us to focus on what matters and act accordingly.
Attention is a behavioural and cognitive process, which means that emotional factors and individual learning experience influence what we perceive and process. Consumer psychology has made a lot of research on what attracts us in products or about their positioning on shelves. Advertising became more personalised by using consumer profiles in order to better attract the consumer attention. We all know the "cocktail party" example when we are listening to the conversation of a small group and suddenly hear from a neighbouring group a word, it can be our name or another word, that catches our attention.
The eyes are our most important sensory organ, with which we distinguish colours, shapes, movements, speeds, and distances, recognise people, and orient ourselves in spaces. Visual stimuli are perceived and converted into electrical impulses. The information is then passed on to our brain via the optic nerve. The amount of information transmitted from our retina to the brain is estimated to be 108-109 bits per second. It far exceeds what our brain can consciously perceive. Visual attention selects relevant information, for example, an obstacle we need to avoid, and filters out irrelevant information from what we see.
The 3 types of attention
Visual attention consists of 3 types of attention we constantly use: 
Selective or focused attention

is our ability to focus on relevant information. It is the brain's ability to focus on a target stimulus, regardless of how long the fixation lasts. 
Psychologists call this phenomenon "inattentional blindness": While we put the spotlight on a chosen target, we blend out the rest of the picture.
Sustained attention

is our ability to concentrate on a task

for a continuous amount of time without being distracted, for example when

watching a video, reading a book, drawing a picture, fixing a car, …

Divided attention is our ability to pay attention to different stimuli or activities at the same time, allowing us to do both simultaneously and to perceive the whole environment. Divided attention allows us also to temporarily hold in mind and process a small amount of information to answer a question or solve a problem while our brain is busy with another task. Typical examples are sending text messages while walking, having a conversation while driving, or eating dinner while watching the news. However, performance on at least one of the tasks often declines.

Why is visual attention so important?
As we have seen above, it's very individual on what we zoom when we observe our environment, which stimuli catches our attention, because it is a cognitive function, and as any other cognitive function we can train our visual attention! Good attention skills are also necessary for other functions like memory or planning.
The processing of visual information is the precondition of every learning process, as the information is stored in our memory. But above all it enables us to orientate ourselves spatially, to recognise important details and to become aware of potential dangers. Visual attention allows us to perform daily tasks without injuring ourselves. Factors significantly reducing our visual attention are stress, fatigue, or alcohol.
The older we get, the more our vision and visual attention diminish, and our reaction time slows down. However, it has been proven that it is not only the reduced vision, correctable to a large extent by glasses, that is to blame for reduced visual attention, but the capacity of attention itself because it is an age-related decline of cognitive functioning. Every elderly driver should therefore not only make a vision test but also a cognitive test of visual attention.
But can brain training really slow down this inevitable process? Research results are controversial because there exist hardly any long-term studies to know more about the protecting effects of brain trainings. But many short-term studies have shown that games, both online and traditional board games, are improving cognitive functions. The results of these studies are very promising. Of course, other factors are also responsible. For example, it has been observed that people with intellectually demanding jobs or who are multilingual or are still learning something new at an advanced age have a later decline of their cognitive abilities than others.
Finding Waldo – visual search
Science distinguishes between two types of processes in visual attention: bottom-up and top-down processing. In short, bottom-up processing means that something catches our attention – it is stimulus driven, whereas in top-down processing
We are searching for a familiar target – it is knowledge based. For example, if you want to buy a shower gel in a drugstore without looking for a particular brand, one or the other will catch your attention (= bottom-up processing). But if you are looking for a particular brand that you know well, then you might not notice these one or two other products at all, they are just distractors (= top-down processing).
We all know the situation when we have an appointment with a friend and try to spot him within a crowd of people.  Knowing the person, we will focus our attention on at least one distinctive characteristic of this friend. There are many other examples of how we use visual search in our daily life. It is our ability to detect, discriminate and locate a target with known characteristics whose location is unknown among distractors with different characteristics.
Waldo and his friends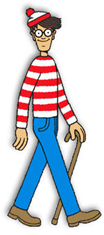 With the children's puzzle book "Where's Wally?", the English illustrator Martin Handford created in 1987 a character that became world famous: Wally, called Waldo in North America, known as Charlie in France or as Valli in Iceland. The activity is a typical visual search game. Within a crowd of similar distractors, the reader is asked to find Waldo and his friends who are travelling to different places such as the beach, the zoo, the ski slopes, … Waldo is known for his distinct wardrobe of a red and white striped shirt, blue jeans, brown boots, red and white striped socks, glasses, and his red and white bobbled hat.
Since the edition of the first book the game became so popular that today it counts a couple of dozen books, video games, animated series and even a movie. The characters also evolved: besides Waldo readers can search for Woof, Wilma, Wenda… and follow their adventures on a fan page and on Facebook.
Waldo's contribution to science
A study published in 2005 dealt with the question of whether our brain spatially scans the crowded page when looking for Waldo or does it move like a mental spotlight over the otherwise dark page? The research findings suggest that our brain performs a combination of both. In a sense, we are scanning a wider field of vision to see if there are elements within it that deserve our focused attention.
Waldo also helped researchers to better understand the fixational eye movements involved in visual search. In a study of 2008, the eye movements of participants were simultaneously recorded. Results showed that the rate of micro saccades – small involuntary fixational eye movements – increased when participants found Waldo. Without at least one micro saccade per second, the brain does not achieve visual perception, because only micro saccades ensure a shift of light on the retina. This shift is important for the receptors of the retina to transmit visual information to the brain. Research has shown that micro saccade production is highest in the Where's Waldo game resulting from the high attentional/cognitive demand of the task.
When it comes to measuring the reaction time to detect Waldo research studies confirmed that the eye movement measurements are more exact, because the target can already be detected before we react to express it, especially in people with slower motor reaction.
There exists tips and tricks about how to maximise the search of Waldo, for example to always start searching at the bottom of the left page etc, but the pleasure of finding Waldo is not only a question of speed. Of course, the point of the game is to find Waldo as quickly as possible, but the colourful illustrations, the countless distractors, all of which look like Waldo at first glance, make the game exciting and fun to play.
Why are autistic people better at finding Waldo?
The British artist Stephen Wiltshire is known worldwide for his detailed city panoramas, which he draws purely from memory following a short helicopter ride. After just a quick glance, Stephen traces the cities to scale and in detail, including buildings with the correct number of windows.
He was diagnosed as autistic at the age of three and belongs to the small group of so-called "autistic savants" due to his remarkable abilities. Stephen possesses an eidetic memory. People who have such a photographic memory can remember contents, impressions, or information like a photo. These memory contents are stored over a long period of time and can be reproduced in detail.
Although the abilities of these few autistic savants are extremely exceptional, it has been confirmed by several research studies that people with autism spectrum disorders (ASD) generally show better performance in visual attention tasks than others. Anyone who has ever played the game "Memory" or put together a puzzle with an autistic person can probably confirm this enhanced performance. Their short reaction times in finding Waldo are also outstanding, which is why the game has been involved in many visual search studies with autistic people. For example, during one study, the children with autism were very good at finding small objects in a cluttered visual field, on tasks like finding Waldo in the "Where's Waldo" picture books series. However, when asked to perform a complex task, like telling the difference between the faces of similar looking people, they had great difficulty.
How does science explain this phenomenon?
People with autism show a particular reactivity to different sensory stimuli. They react with hypo-responsiveness or hyper-responsiveness or both. Regarding our vision hypo-responsiveness means that they have difficulties in recognising faces and avoid eye contact, while hyper-responsiveness implies an enhanced perception of details. This reactivity to sensory stimuli in people with autism has been linked to a disturbance in the processing of sensory information. Autistic people seem not to be able to appropriately filter the multitude of sensory information that constantly stimulates our neural system. They see the unseen and hear background noises as loud as other sounds.
The reason is that the communication between brain regions – particularly between sensory areas and areas where internal references are created – is different in people with autism. One of the hypotheses for autistic people's superiority in visual search assumes that sensory information is coded very precisely. This focused and detail-orientated vision allows them to discriminate distractors almost immediately when searching for a target.
The Canadian autistic doctor Nathalie Engelbrecht resumes: "When you show a neurotypical and an autistic a forest, they do see the trees… But we (autistic people) also see the insects, the flowers, the moss, etc.—as well as their constituents and intricacies."
How can we improve our visual attention skills?
Anytime we practice attention and process visual information, our brain builds neuron connections. However, the truth is that we are hardly aware of how we use the three types of attention (selective/focused, sustained and divided) in our daily life.  By applying them in a concerted way, we can use them to our advantage in the future. To do this we have to learn to switch on and off the internal and external distractors. Internal distractors are our thoughts which make our mind wandering. According to researchers at Harvard University, we are lost in thought 47 per cent of the time we are awake. External distractors are all kind of eyecatchers, noises, interruptions… disturbing our attention.
Mindfulness
Mindfulness means staying in the present moment, focusing our attention exclusively on what we are doing right now. Being fully aware in the here and now without reminiscing about the past or pondering about the future.
We can practice mindfulness in our daily lives by consciously focusing on a meal, for example. By being attentive to what our senses are taking in at that moment … the smell, the look, the taste, the texture, the colour of the meal. We can also practice mindfulness in many other daily situations like walking, riding a bike, cooking, talking….
Focused Meditation
Trough meditation we direct our concentration to a specific point, it can be a sound or a visual item. The aim is to release our thoughts and keep or refocus our attention on that point to prevent the mind from wandering. When our mind starts wandering, we close our eyes and concentrate on our breathing before we open them again and focus on the same or another target. The aim of the exercise is to learn to direct our attention in a more conscious way and to switch off internal and external distractors.
Physical activity
Physical activities can improve our reaction time and they also help us to reduce stress. With yoga exercises, we focus on our breathing and relax our body and mind. When we practice yoga on a regular basis, it helps to calm our senses and to attain better focusing.
All these techniques do not require much time. It has been proven that just a few minutes a day is enough to reduce distractions and increase concentration.
Description
Description
In this module you will learn about visual attention and visual search skills, more precisely about the visual search game "Where's Waldo?". Visual attention is a cognitive skill that declines with ageing but can be trained and improved like all other cognitive skills.
Learning Outcomes / Objectives
By the end of this module, you will be able to
• understand the different types of visual attention
• know about how science explains outstanding visual search skills
• know about how to become beware and improve your visual attention
• learn about the benefits of Where's Waldo games for visual attention
Wrap up
Visual attention skills can be trained as any other cognitive skills. The first step is to become aware of how we use the different types of visual attention, so that we can then use and train them in a directed way.
Data
Author
PISTES SOLIDAIRES
Language
English
Glossary entries
Visual Attention: The ability to focus on important visual information and filter out unimportant background information. It's also the ability to sustain or focus on visual information for periods of time and shift focus when necessary. 
Visual Discrimination: The ability to determine differences or similarities in objects based on size, colour, shape, etc. 
Visual Processing: The ability to take in and understand information you see. It also includes the speed at which you're able to take in and understand the information.
References
Game